The Breakthrough Experience (TM)
Signature Coaching Program
12 Weeks – Group Coaching                  $997.00
12 Weeks – One to One Coaching         $1697.00
---
Open Enrollment Starting Soon!
TBE is a self-mastery program for serious-minded manifesters seeking a breakthrough for change. Too often people are stuck in a stagnant place and none of the strategies, despite their quality, seem to work.
---

Here's the thing…you don't need another strategy. You need a massive BREAKTHROUGH!

Self-mastery to getting out of your own way and getting unstuck!

What is at the core of such a breakthrough? Great question! The answer is simple…core beliefs.
---
It is imperative to identify and ratify the core beliefs that are keeping you stuck. These beliefs are not the ones hovering on the surface of your conscious mind. They are the ones hiding in the recesses of your subconscious mind.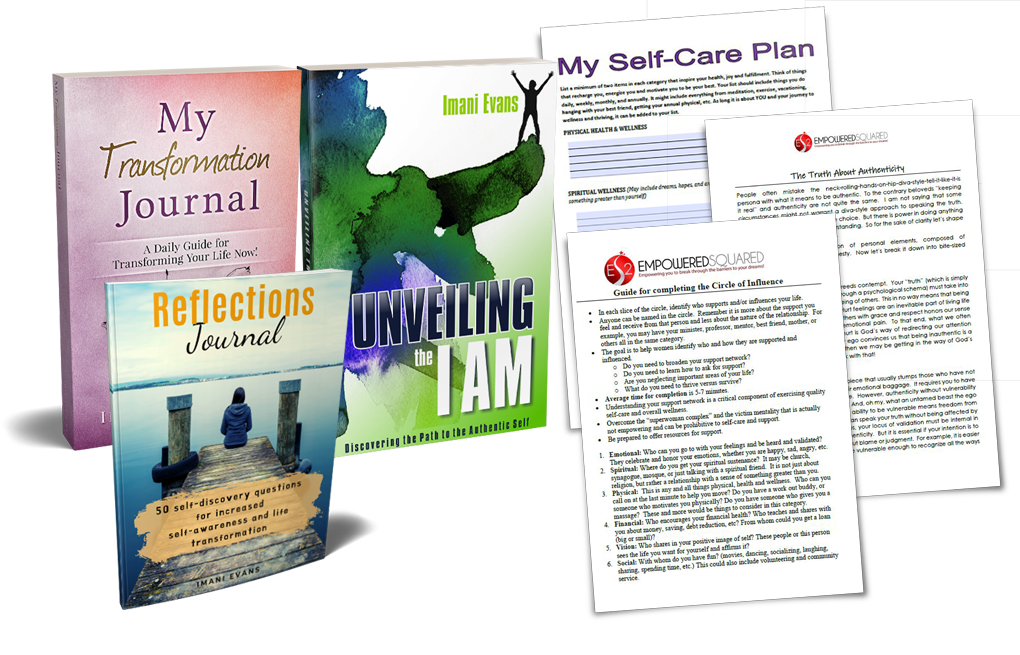 Have you taken courses and workshops previously, but are still struggling to make it stick…and make it happen?
Do your past traumas, disappointments, and fears keep creeping up when it's time to take BIG ACTION?
Are you ready to break through the self-sabotaging behavior and the negative thinking that is keeping you stuck?
---
If so, now is your time for a Breakthrough Experience:
Get clear on what you really want for your life
Discover a truly meaningful and purpose-driven life
You have survived a lot of challenges in your life…Now it is your time to THRIVE!
---
This program is your opportunity to truly get free and experience lasting PURPOSE & JOY.
This program was created for people just like YOU!
I've read this book twice now, and would happily recommend or pass it on to anyone who needs an uncomplicated tool for boosting self-esteem and discovery. Imani Evans is an accessible guru. Having read many inspirational/self-help books over the course of this life, I would never disparage books by "the biggies," like Tony Robbins or Joel Osteen for example, but Imani Evans' book delivers without denomination or grandiosity. The author has clearly "been there and done that," but rebounded from traumatic life experiences with the desire and talent to bring the rest of us up to a higher level with her. Buy this book! Page for page its powerful punch of inspiration will blow you away.

ANONYMOUS Verified Purchase on Amazon [Unveiling The I Am, by Imani Evans]

Imani is a great advocate and amazing performer and presenter. I hope to work with Imani in the future and would recommend her for presentations, conferences, workshops etc.

Aline Jesus-Rafi, PhD

It is rare that I pick up a book and can't put it down. This work is one of those where the reader takes a stroll with the author to an unexpected place of reflection into ones own life. The destination is an evaluation of our oneness in appreciation of a story she shares. I applaud you, Mrs. Evans- Baskin. This is a welcomed addition to a growing collection. I look forward to your next work. Thank you! [Unveiling the I Am by Imani Evans]

Jocelyn Lyles

Her presentation of "Self-Care for Dynamic Women" at our 2012 100 Black Men Conference, "A Woman Like Me" event was spectacular. Thank you for a beautifully-engaging and interactive discussion that had us at "Good Morning," and is sure to leave an impression for many years to come.

Sondra Wright

Author / 40 Plus and Fabulous LLC

Imani is self-help in action. She models what she teaches and embodies grace, understanding and intelligence in her work and in her life.

Pastor Maressa Pendermon

Unity Fellowship, Greater Atlanta

These last 30 days and the infocizes (information and exercises) we were assigned to complete were very eye-opening and caused me to paused and really look deep into myself, my culture and what I was taught to belief.

In this process, I have discovered that not all I have been taught to believe are still relevant for my life.

The realization that the term "discipline" should not only be conveyed as a negative action; however, it should be applied to every aspect of our lives. Whether that is something we strongly desire to achieve or just implementing discipline in our daily lives.

Nadine Rawls

"When I begin this process I was seeking Self Discipline and Consistency. I had a revelation regarding Self Love being connected with Self Discipline and that you can't have Self Love without Self Discipline. That was my breakthrough moment.

Since this Manifesting Group I have learned how to be more Self Disciplined and Consistent. Through my Course work I was not only able to make progress but a Quantum leap like never before towards my Goals.

Imani is a Master Teacher like no other, who helped me with Master Transformation and Mastering myself."

Lillie Harris

Nonprofit Founder & Leader